Renting A Scooter In Bali: Detailed Guide To Hassle-Free Travel
Are you looking at renting a scooter in Bali? Jack and I lived on the island of Gods for 5 months before deciding to take our rented scooters on a road trip around Bali's coast for our last month!
We wanted to leave behind the touristy areas, such as Ubud, Seminyak and Canggu, which is where we were staying and discover the 'real' Bali; the Bali which tourists don't really see!
Bali really is an incredibly beautiful island which sits in the middle of the Indonesian archipelago. It's full of the most breathtaking scenery, so much so, that it's one of the best holiday destinations in Southeast Asia.
Since Jack and I were trying to travel around Bali on a budget we decided that renting a scooter in Bali rather than a car would be cheaper. And it is, but a bit more dangerous!
Here's What You Should Know Before Renting Your Scooter In Bali!
In this post, I'll share the details of renting a scooter in Bali including what you need to know to rent safely (and legally) in Bali. I'll also highlight our own scooter road trip and share our costs so you can have an idea for your own trip.
How To Rent A Scooter in Bali?
There are two ways to rent a scooter in Bali. You can either pre-arrange with a company like BIKAGO, who will have your bike ready for you when you arrive. Or you can organise a bike when you reach the island. Both ways have their pros and cons.
Where To Rent A Bike In Bali?
There are many places to rent a bike in Bali. You won't have any problems finding a place in the larger towns. They exist everywhere from street corners to your hotel or at the airport, you'll find somewhere renting bikes.
It's a good idea to ask your hotel if you haven't pre-arranged as they should have knowledge of reputable companies. We know that BIKAGO is a good company.
Watch out for scammers and dodgy companies, although if you lack a licence this is where you might want to head to blag yourself a bike. But, we don't suggest this!
It's usually cheaper to organise a bike once you get to the island, however, as Bali is a really popular holiday destination and everyone is renting scooters, you might be out of luck! Booking online secures you a bike.
✔️ Best Bali Bike Rental: BIKAGO
If you want to rent a scooter in Bali as we did, you're going to need a comfortable bike. We recommend BIKAGO, they are a popular Bali-based bike rental company.
Keep in mind: If you're planning a scooter road trip most of the bikes for rental once you reach the island are 125cc scooters, which although you can do it (we did!) I recommend arranging for a bigger bike for more comfort.
How Much Does It Cost To Rent A Scooter In Bali?
For 1 Day: If you're looking to rent a scooter in Bali for one day, it's about 40,000 IDR to 50,000 IDR (£2.16/$2.63) for 24 hours depending on the age, model and location you hire from.
For 1 Month: If you want to rent a scooter in Bali for a month you'll likely be paying between 700,000 – 900,000 IDR p/m now (£38-£50 / $43 -$55) if you decide to book your scooter once you arrive in Bali, but remember, you might not get one!
Sim Card: 70,000 IDR (£3.88) will get you a SIM card with enough data/credit for the month. (It's important to be able to use maps!)
Petrol: To fill up our tanks we were putting in around 45,000 IDR.
Luckily, petrol is super cheap in Indonesia and really isn't going to impact the budget too much as it would in other countries such as the UK! We were able to do around 60 kilometres on one litre of fuel.
👉 Related Post: Are you only making a quick visit to Bali? If so, have a read of my 5 days in Bali budget itinerary which will help you plan and make the most out of your trip.
We had 125cc scooters rented from Canggu at the bargain price of 500,000 IDR a month! This was a Covid discount and I doubt you'll be able to get this deal, but it is possible.
The bikes we had were reliable and relatively new too. However, we weren't left with much choice and probably could have done with a slightly larger bike for more comfort!
How Much Money Do You Need For 2 Weeks In Bali?
Bali is pretty cheap, it's actually one of the cheapest countries in Southeast Asia. If you want to know why Bali is so cheap and how much money you'll need for your trip click on my why is Bali so cheap post, here!
What You Need To Know To Rent A Scooter In Bali
It's quite funny really as when we travel, most of us pack so much and spend weeks planning what we'll put in our suitcases. In reality, when travelling there are only two things we ever really need: money and a passport.
The same goes for renting a scooter in Bali, in the end, all you really need is money and a passport. If you want to be legit (which we highly suggest!) you'll also need a licence and insurance.
Do You Need A License To Rent A Bike In Bali?
✔️ Yes. You do need a license to legally drive a scooter in Bali.
That being said, some of the rental companies on the island will not stop you from getting a bike if you don't have one. But, unless you know how to drive it's not wise as the roads can be dangerous and you should have good road sense!
Can You Drive In Bali With A UK License?
✔️ Yes. In most cases, a driver's license issued in your home country is valid for driving in Indonesia.
However, it's a good idea to carry an International Driving Permit (IDP) along with your local license for added convenience and compliance.
We actually ended up getting a valid Indonesian license from the official licensing building as we did not get our international driving license before leaving the UK.
Technically, you need a Kitas to get this, (or do you? There is different information circling) but ask around and someone should be able to point you in the right direction.
Good To Know: The international driving permit can be easily applied for from the local post office for £5.50. Do this before leaving and it can be done on the day.
Do You Need Insurance To Rent a Bike?
✔️ You should always travel with insurance.
Our insurance was with World Nomads, who required us to wear a helmet and have the appropriate license (which in our case was an international licence or an Indonesian licence) as well as the bike not being our main form of transport, (cough cough).
⭐ Make sure you do your own research into your insurance requirements.
✔️ Recently we have been using SafetyWing which is proving a great insurance company for nomads who want to rent scooters in Bali!
What About Police Bribes?
✔️ Bribing police is a very real thing!
All the above being said, it's possible to bribe the police. Some of them actually have a list of offences and fines which they are more than happy to pin you for. And, if you can't pay they will take you to the station.
Before we got our Indonesian license we were riding with our UK licences and got stopped and had to pay a fine. I can't remember exactly but I think it was around 2,000,000 IDR (£100.00/$132.00).
I had a lot less on me and had to beg them to take that and not take me to the station. Luckily, they took what I had, (maybe 300,000 IDR) and let me go. Others have not been so lucky!
Travel hassle-free with the correct license: On another occasion, I was pulled over when I had my Indonesian licence and they let me go without another word. They wanted to see that and the rental insurance documents – make sure you have a copy of that too from your rental company!
Is Driving In Bali Difficult?
Personally, I don't think driving in Bali is difficult. You just need to be careful of the potholes and be weary of the other drivers. I wouldn't ride if you've had a few drinks and always ride with your fingers covering the breaks.
Are Scooters in Bali Automatic?
One of the things which makes renting a scooter in Bali that much more appealing is that all of the scooters are automatic. This means is super easy to ride them and even if you haven't got any experience, you can pick it up quickly. Just twist and go.
Are Helmets Compulsory In Bali?
Always wear your helmet. You're more likely to get pulled over by the police if you're not wearing a helmet. Your insurance is only valid if you're wearing a helmet and if you have an accident, you'll be in serious trouble if you're not wearing one.
How Do You Fill A Scooter In Bali?
It's super easy and usually done for you. You'll need to hop off when you get there and open your seat, the cap to the tank is usually inside. The staff will fill it up for you, just say "full" or "20,000" (or whatever you want to put in) and they'll do it for you.
You can only pay in cash.
Is It Safe To Drive A Scooter in Bali?
This is a big question I get asked a lot and the truth is, it can be dangerous. Everyone rides and rents scooters in Bali, and I mean everyone; men, women, children, dogs…
You'll see scooters with three or four people on them, some holding babies and others with small children; some will even have their dogs on them too!
The Balinese use scooters to get around everywhere and the traffic can be horrendous but they are pretty good on them, rarely having any accidents. It's the tourists who generally get into a pickle and cause an accident, that's you and me!
You will encounter traffic, people swaying in and out of lanes, riding on pavements, riding too fast, riding too slow and some with no apparent understanding of road sense, however, the system works.
Be brave, be sensible, and rent a scooter in Bali the right way and you'll have no problems during your scooter road trip.
Safety Things To Watch Out For
Road conditions – The roads are not impeccably maintained, so it's crucial to watch out for potholes that could pose a risk to both you and your scooter.
Sand/gravel patches – Exercise caution and remain observant, as riding over a patch of sand or gravel can swiftly result in loss of control, particularly when navigating a corner. Both your bike and yourself are highly susceptible to slipping.
Weather – In the event of rain, the road surface becomes extremely slippery, you'll need to be very cautious while riding!
Street dogs – Stray canines are ubiquitous and prone to darting onto busy roads. It's not only your responsibility to swerve; oncoming vehicles may also need to take evasive action. Therefore, remain vigilant and be attentive to any wandering dogs that may enter the roadway.
Local residents – The locals possess a comprehensive understanding of the roads, often travelling at higher speeds and expecting others to yield. It's advisable to ride to the side of the road and allow them to pass.
Scooter Safety Tips
Rock that helmet: Make sure to always wear a properly fitted helmet whenever you hop on your scooter. It's like your superhero gear that can seriously reduce the chances of any head injuries if you ever have an accident.
Follow the traffic flow: You know the drill—respect the traffic signs, signals, and laws, just like you would while driving a car. Stop at those red lights!
Cover your skin: As much as possible. I know it's hot but try and stay smart, especially if you're travelling long distances and if only to protect yourself from sunburn. On that note, make sure you put sunscreen on!
Cover your feet: Make sure you have good footwear. We used our walking boots when we rode long distances, this will keep your feet protected should you have an accident.
Stay sharp and focused: Keep your eyes on the road and your surroundings at all times. Put away the distractions like scrolling through your phone.
Watch out for surprises: Keep an eagle eye out for potholes, random junk, or anything that might mess up your scooter ride. Adjust your speed and direction like a pro to tackle these obstacles and stay safe.
Remember, these tips are here to make your scooter rides safe. So embrace caution, my friend, and ride on like a true scooter champ!
---
Scooter Road Trip: What's It Like Touring Bali On Scooters?
After we rented our scooters in Bali it took us a while to decide to go on a scooter road trip. In all honesty, we were both a little apprehensive as to whether it would be possible, how comfortable it would be and if we were even allowed to take the bikes that far!
However, in the end, we went for it. It was a surreal journey, challenging at times, bumpy, achy and sometimes long but, it was always fun, even through the harder parts!
We were caught in some of the wet seasons' heaviest downpours, stopped by police and got really lost. We also visited enormous volcanos, stunning waterfalls, vast lakes and lots of pristine beaches!
Some of the places we stayed in were incredibly beautiful and others were really terrible, but everywhere we went the Balinese people met us with warm smiles and open arms!
Guess What: We took our 70-litre backpacks along for the ride too! These were strapped tight to our backs at first but halfway through the road trip, we realised we could fit them between our legs! It was heaven not having to carry them on our backs.
I would recommend anyone who is adventurous to do a scooter road trip in Bali as it was, overall, so much fun and a great experience!
Can You Travel Long Distance On A Scooter?
It is possible to travel long distances on a scooter, although, unless they are larger scooters with bigger, softer seats it's not going to be that comfortable. From my experience, anything over 2 hours on the 125cc scooters is going to make your bum numb!
What To Wear On A Scooter Road Trip?
In Bali, it's hot and layering isn't possible. Sometimes, we would wear trousers and other times shorts, but we always used our walking boots to protect our feet. Depending on the amount of sunshine it's always wise to wear a long-sleeved shirt, if not, make sure you slather on sunscreen.
Sample Itinerary: Where To Go Once You've Rented Your Scooter In Bali!
A quick summary of this 4-week Bali itinerary so you can see exactly where we are going.
👉 Related Post: To find out about all the stops on our road trip in Bali, check out my 4-week Bali itinerary
Starting point: Denpasar
This itinerary is assuming you are flying into Denpasar. While there and arranging your transportation, why not visit Jagatnatha Temple which is the biggest temple in Denpasar?
Week 1: Canggu & Medewi
Stop 1 on your road trip in Bali and we go to Canggu. This is where we stayed for most of our time in Bali, it's great for a laidback, sunkissed, beach-chilled, party vibe…
Stop 2 is the sleepy fishing town of Medewi – it's got one of the best waves for learning to surf. You'll be able to visit sites such as Bunut Bolong and Juwuk Manis waterfall.
Week 2: Mt. Ijen & Pemuteran
Stop 3 will see us heading over to Java to climb the first volcano on this Bali road trip. Mt. Ijen is famous for its blue fire and stupendous views. While you're in Java head over to Jagir Waterfall where you'll find a little plunge pool full of those fishes which nibble your feet, free pedicure anyone?!
Stop 4 is a visit to Pemuteran, in the north of Bali, this is where you'll truly start to experience rural Bali.
While you're there head to West Bali National Park for a day of jungle trekking.
On another day why not visit Menjangan Island? You can snorkel this incredible coral reef or go scuba diving, it's a beautiful dive site!
Pemuteran is also home to a turtle hatchery and you'll be able to take self-guided hikes into the mountain paths.
Week 3: Lovina & Mt Batur
Stop 5 takes us over to the beach town of Lovina where you can visit one of the top natural hot springs in Bali – Banjar Hot Springs.
Stop 6 sees us climbing another volcano, this time it's Mt Batur, the most popular and well-known on the island. The best way to do this is on the Mt Batur sunrise hike!
Week 4: Amed & Ubud
Stop 7 is Amed, my favourite place in the whole of Bali! There are so many amazing things to do in Amed such as shipwreck diving and visiting Heavens Gate.
Stop 8 brings us to Ubud for some downtime and re-balancing, you'll need it after all that riding! Head to the Camphuan Ridge Walk or take part in a purification ceremony. Explore centrally and visit Ubud Market, Royal Palace and Kajeng Rice Fields.
End point: Uluwatu
And finally, stop 9 takes us to Uluwatu where you can say goodbye to Bali with a cocktail overlooking the cliffs at Ulu Cliffhouse. But before you do make sure to visit Uluwatu Temple and Nunggalan beach!
How Much Does A Scooter Road Trip In Bali Cost?
To give you an idea of the costs for a 4-week scooter road trip, I've put together this table. It's based on our own budget trip. Budget being the keyword here, we really didn't do it luxury!
| | | |
| --- | --- | --- |
| Scooter Road Trip Itinerary | Costs (IDR) | Costs (GBP/Dollar) |
| Scooter Rental | 900,000 | £52 ($58) per month |
| Petrol | 45,000 per full tank | £2.60 ($3) |
| Accommodations (budget) | 86,000-345,000 | £5-£20 per night ($6-$22.50) |
| Activities: Organised Tours | 518,000-1,030,000, | £30-£60 each ($34-$67) |
| Activities: Independent Tours | 345,000 | £20ish ($22.30) |
| Meals (warungs & street food) | 34,000 | £2 per meal ($2.24) |
| Meals (restaurants) | 172,000-260,000 | £10-£15 per meal ($11-$16) |
| Alcohol (min. beer & cocktail ) | 34,000 or 86,000 | £2 or £5 ($2.24 or $5.59) |
| Sim Card & Data (per month) | 70,000 | £4 ($4.47) |
*The table shows the estimated cost of taking a scooter road trip in Bali in 2022.
---
Renting A Scooter In Bali
Our scooter road trip in Bali was so much fun, we really had a great time exploring by ourselves, being in control of where we went and what time we left places.
The whole process of renting a scooter and riding a scooter in Bali was fine, with no issues. We were able to fully enjoy our road trip on our own terms, which was great. I would highly recommend exploring Bali by scooter! We hope you found this post useful. Feel free to browse our Asia/Indonesian section of the website for tons of other travel tips.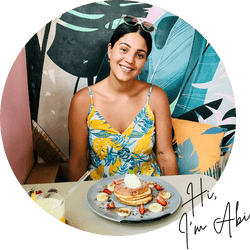 Explore & Discover More
Come and join our socials and keep up to date with the latest adventures. Find the latest travel photos, blog updates, ask questions and get travel inspiration.
✔️ FIND ON INSTAGRAM
✔️ JOIN US ON FACEBOOK